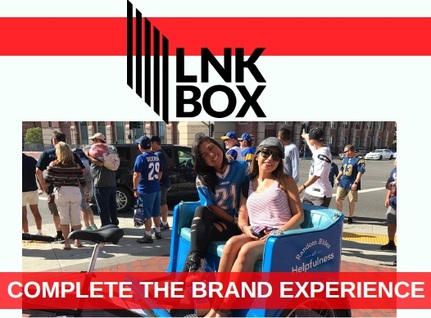 Partnership Announcement
True North has recently partnered with LNKBOX, an exciting pedicab and media company.  Our role will be to expand their partnerships nationwide with events, venues, advertisers and agencies.
Pedicab service is trending up with brands and consumers. LNKBOX provides scale-able, pedal-powered, eco-friendly brand engagements for patrons and new innovative media for advertisers/sponsors.
National + Turnkey + Scale-able
LNKBOX works with all types of events and venues such as festivals, races, campuses, conventions, sporting arenas, malls, amphitheaters, cruise terminals, resorts, casinos – and more.
Turnkey Solution
LNKBOX is a turnkey national solution. We handle everything – equipment, graphics (provided by the brand), printing, installation, shipping, storage, permitting, drivers, training and campaign deployment
The Box
Up to ten pedicabs are shipped in the LNKBOX cargo container (20'l x 8'w x 9.6'h).  If a campaign is multiple days, or a venue wants to use for multiple events, the container fits in a standard parking spot and conveniently provides storage for as long as needed.  The container can also be branded to match the promotion if needed.
The Drivers (Brand Ambassadors)
LNKBOX hires, trains and manages a young and enthusiastic crew of drivers who complete the brand experience with patrons.  They become the brand ambassadors, wearing branded apparel, talking up the brand, distributing flyers, coupons, brochures, products and more – all while delivering a fun pedal-powered brand experience.
The Cabs
The cabs can be branded and modified in a variety of executions and can be used for showcasing products, sampling, distributing info, etc.
New Media, New Value, New Engagement!
Please let me know if you would like to learn more about this innovative media platform.
Brian Baker
Managing Partner
True North Management Group
(404) 641-1932
brianbaker@truenorthmgtgroup.com